November 4th, 2013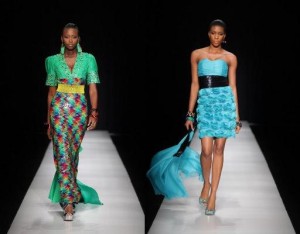 Africans formerly used palettes derived from plants according to the African region (e.g. white, black and red in South Africa, blue, yellow, green and red in Ghana).
We talked about the style of Africa and as, with few materials, you can get an original style and spontaneous.
African has a beautiful, unique and unparalleled fashion. The wild nature and magic tribes that live there have inspired throughout history hundreds of designers.
The designer Jean Paul Gaultier opted for animal prints to shape their collection. He also showed his passion for Africa and doing a limited edition of their very well-known and classic embellished with perfumes.
Feathers have an important role in this fashion, adorning skirts and shoes. According to some traditions, the feathers are useful to communicate with the spirit world.
Because of their lack of material, they also used animal bones to decorate their clothes. Although this abomination for them is normal. Africa offers an infinite range of trends that have captivated artists from all over the world.
Clothing and African-inspired accessories are everywhere. Blouses and shirts with ocher and orange colors invade the shop windows and take us to this magical continent. When we think of Africa comes to mind its color, its nature and animals and is in these things that are inspired by the designers for their new creations. Mosaics and feline prints give a stir this summer.
But it is not only shirts, blouses, dresses or skirts. The accessories also come to light. Big and bulky necklaces incorporated in shirts or part, many bracelets, handbags and high heels.
Even the scarves worn on the head are making a space in this sector, either to wear them as a turban or as a headband. All these accessories are added around African trends.
The designers want to show a very feminine yet tough as Africa. They want to highlight the African sensuality and femininity but still show the true personality of the continent and its people.
Just when it seemed that animal prints had been forgotten.
The combination of white and ocher colors makes tanning highlight more also are cool colors for summer and very consistent this season.
We go to stores looking for a current, original and unique set. With globalization is difficult to find outfits that meet these requirements, especially if you do not live in a big city. We know that African ethnic style is unusual in the street-style of Europe and yet different, colorful, casual and does not seem out of fashion.
Clothing & Fashion
|
Comment (0)
October 29th, 2013
As a nurse, I buy a lot of scrubs and it can be difficult to find styles I like that are actually affordable. Many scrub outlets advertise low prices and they do have them, but only on plain scrubs in bland colors that don't catch my interest. I found BlueSkyScrubs during an internet search and their selection of bright colors and patterns caught my eye. I decided to place my first order a few months ago, and I have since been back to order more!
I initially ordered a few sets of Shelby scrubs from the Blue Sky Classic Collection. I ordered scrubs in Wine, Eggplant, and Peacock. They arrived exceptionally fast- within a week- and were packaged well. I opened the scrubs and tried them all on. They fit perfectly which speaks volumes about the quality of their sizing charts. The colors are as bright and wonderful as you can expect- the pictures on the webpage just don't do them justice! Fabric quality is outstanding and seems sturdy. I am quite pleased with this, as some other brands of scrubs tend to snag and frag unfortunately. I think this style may be my new favorite! It is a classic, comfortable fit available in fun colors. I couldn't be happier with this purchase.
A few weeks ago I even came back and ordered more. My order arrived within days and I began wearing them immediately. I ordered some holiday-themed scrubs and some hats from the Pixie Collection.  These hats are comfortable, the fabric quality is wonderful, and I love wearing them. There are so many fun patterns and I will surely be buying more, but this time I went with Akona and Candy Land. I get so many compliments from coworkers when I wear these hats, and I've even referred a few of them to this site! I just love how their selection of colors really 'pops' and these pieces have added a little fun to my day and those of my patients. After all, it is about making a better experience for patients, and I am happy to be able to express some individuality with these fun scrubs and hats.
The best part is the amount of discounts. I follow BlueSkyScrubs on social sites, receive their e-mail newsletter, and I have used various discounts just offered through the site. I receive discount codes very often, and this has saved me money on my orders. I think the prices are very reasonable as is, but who doesn't want to save money? By using the discount codes and deals, I have been able to overhaul my scrub wardrobe at a much better price than if I went to a physical store or other online retailer. I will definitely be browsing www.BlueSkyScrubs.com again when I feel the need to add another scrub ensemble to my closet! Thank you so much for providing fast service at a great price. I can't recommend this retailer enough!
Clothing & Fashion
|
Comment (0)
February 5th, 2013
Over the last couple of years the interest and prices for diamonds has increased. If you live in New York, you may have noticed that almost every jewelry store now buys diamonds. Lots of people are interested in selling their diamonds but don't know how to take the first step.  It is common for people to accumulate valuable jewelry over their lifetime, since it can be a great investment. However, selling diamonds or jewelry can sometimes be a little bit frustrating, especially for those who don't know the true worth of their items. Finding the right place to sell your diamonds just takes a bit of legwork and some common sense. For example, there are some great options online if you choose to sell diamonds jewelry in New York.
Diamonds can be sometimes tougher to sell than gold. Among precious stone buyers there is a lot of controversy over "conflict diamonds" or diamonds that are found in certain locations of Africa. These controversial diamonds are sometimes used to buy illegal merchandise related to war. Diamonds prices have increased due to worldwide demand, especially in China and India.
Keep in mind that the true value of your diamond jewelry can only be determined by a certified appraiser. You can find a professional appraiser in most jewelry stores. Some professional appraisers charge a lot for their services but there are some others that can determine the value of your precious stones for free. The worth of a diamond is dependent upon many factors, especially on its quality and clarity. A diamond's cut is also something that may affect its value, since there are some cuts are more valuable or rarer than others.
Sometimes, conventional jewelry stores can be difficult to trust, since many try to take advantage of the fact that most sellers aren't well researched.
If you choose to sell diamonds in New York to someone in the jewelry industry, this means you can process the sell faster than if you should sell to a friend or family member. Many may instead prefer to go the route of using online auction websites such as EBay; however, the threat of getting scammed is higher. You should also only deal with jewelry stores that are certified from recognized institutions. Two great institutions are the American Society of Appraisers and the International Society of Appraisers. These are companies that do their best to maintain quality in the industry, so don't be afraid to sell your diamond jewelry if the store is properly certified by those institutions.
Clothing & Fashion
|
Comment (0)