November 4th, 2013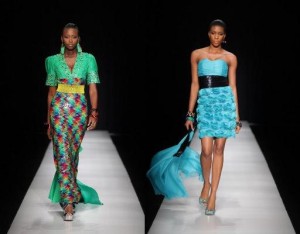 Africans formerly used palettes derived from plants according to the African region (e.g. white, black and red in South Africa, blue, yellow, green and red in Ghana).
We talked about the style of Africa and as, with few materials, you can get an original style and spontaneous.
African has a beautiful, unique and unparalleled fashion. The wild nature and magic tribes that live there have inspired throughout history hundreds of designers.
The designer Jean Paul Gaultier opted for animal prints to shape their collection. He also showed his passion for Africa and doing a limited edition of their very well-known and classic embellished with perfumes.
Feathers have an important role in this fashion, adorning skirts and shoes. According to some traditions, the feathers are useful to communicate with the spirit world.
Because of their lack of material, they also used animal bones to decorate their clothes. Although this abomination for them is normal. Africa offers an infinite range of trends that have captivated artists from all over the world.
Clothing and African-inspired accessories are everywhere. Blouses and shirts with ocher and orange colors invade the shop windows and take us to this magical continent. When we think of Africa comes to mind its color, its nature and animals and is in these things that are inspired by the designers for their new creations. Mosaics and feline prints give a stir this summer.
But it is not only shirts, blouses, dresses or skirts. The accessories also come to light. Big and bulky necklaces incorporated in shirts or part, many bracelets, handbags and high heels.
Even the scarves worn on the head are making a space in this sector, either to wear them as a turban or as a headband. All these accessories are added around African trends.
The designers want to show a very feminine yet tough as Africa. They want to highlight the African sensuality and femininity but still show the true personality of the continent and its people.
Just when it seemed that animal prints had been forgotten.
The combination of white and ocher colors makes tanning highlight more also are cool colors for summer and very consistent this season.
We go to stores looking for a current, original and unique set. With globalization is difficult to find outfits that meet these requirements, especially if you do not live in a big city. We know that African ethnic style is unusual in the street-style of Europe and yet different, colorful, casual and does not seem out of fashion.
Clothing & Fashion
|
Comment (0)